After the Firebird series and "Crystal Witness," novelist Kathy Tyers returns to her spacefaring world for a new trilogy.
On our new Fantastical Truth podcast episode, Zack Russell and I met minds with Kathy Tyers.1
Kathy Tyers created the well-loved five-book Firebird series, which first launched in 1987. She also wrote Crystal Witness, which Enclave Publishing plans to re-release this summer.
Oh, and as Kathy tells us, she's now creating a new series: The Sunstone Saga, set in the same world as Crystal Witness.
Its first novel, The Long Silence, is already in progress. Lord willing, it could release as soon as 2021. Listen to learn more:
Podcast: Play in new window | Download
Lorehaven magazine reviews Firebird
We reviewed the Firebird series in our spring 2020 issue's cover story, "The Best of Christian Fantasy":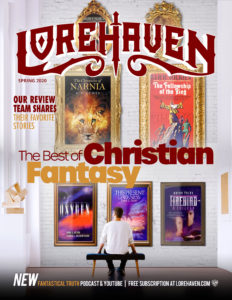 Lady Firebird Angelo has grown up knowing she might someday die for her people. As the thirdborn daughter of the royal family of the planet Netaia, she has trained for combat as a "wastling," destined for suicide. Unfortunately, during her first engagement in space, she fails. Firebird is captured alive by the enemy. This galactic Federacy employs Firebird's new captor, Field General Brennen Caldwell, who is both intriguing and supernaturally telepathic.

Their encounter leads to the first of Lady Firebird's drastic life changes in Firebird, book 1 of Kathy Tyers's Firebird series. Tyers described Firebird's original version, from Bantam Books, as a "cultural conversion story." Yet since then, newer versions from Christian publishers enhanced Brennen's commitment to an Eternal Speaker. That unseen entity has promised a divine messiah who hasn't yet arrived. …

Tyers deftly describes other worlds, adding color to landscapes and intensity to emotions, especially in those my-mind-to-your-mind entanglements. Firebird's musical talent adds even more atmosphere, not often seen in fiction, much less space opera. This trilogy—continued years later in books 4 and 5, Wind and Shadow and Daystar—marks a fantastic find for Christian fans and beyond.
Our questions include:
What's your origin story? How did you jump into operatic space?
After the first Firebird trilogy, what brought you back for two more books?
How did your time at Regent College "reboot" your biblical creative engines?
What are the big "what if" questions that led to the Firebird universe's alternate history and future for human space exploration?
What's your view of Christian imagination?
What can sci-fi/space opera (or fantasy) do that other genres can't?
Next on Fantastical Truth
We're starting a new series for the season: Epic Resurrection. What does Jesus's promise of "resurrection" really mean? How does resurrection change our view of ourselves? How does it change our whole planet, even the universe? Finally, how does resurrection change our view of fantastic stories?
Still seeking our biblical/fantastical risen Savior,
Stephen